Peggy Porschen London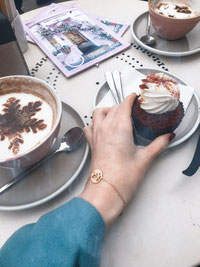 The cupcake seen on the picture is called »RedVelvet«. The hot-chocolate with mini-marshmallows I ordered was also amazing! I really fell in love with this small cafe!
You can visit it on your next trip to London:
116 Ebury St, Belgravia, London SW1W 9QQ, Vereinigtes Königreich
"There's nothing a Cupcake
and Coffee can't solve."
~ Marie Williams Johnstone